CrissCross Solutions is the operational platform that assists Banks and Opportunity Funds to:
Protect and Preserve the Value of a Real Estate Asset(s)
Add Value to a Real Estate Asset(s)
Create Workout Solutions
Acquire a Real Estate Asset(s)
Dispose of a Real Estate Asset(s)
Form New Joint Ventures
And More...
Our team will analyze your specific Real Estate Asset(s) and assist you in determining the best course of action whether they are performing, non-performing or REO.
Click on the Chart Below to See our Menu of Services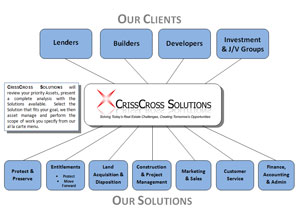 CrissCross Solutions is a group of real estate industry veterans that specialize in the full spectrum of real estate services. We provide custom designed programs to meet the needs of groups who are engaged in the real estate industry through property repositioning. Work-out situations, land development, construction and marketing services may be necessary for successful completion or for increasing and/or maintaining an asset's value. With the ever-changing landscape of residential real estate, ownership of major residential properties is transforming and the challenges of each property or portfolio are unique.
With a leadership team of over 175 combined years of real estate experience, CrissCross Solutions provides a full range of development services including Entitlements, Coordination of Engineers, Architects and Land Planning consultants, Sales and Marketing, Project and Construction Management, Customer Service / Warranty programs, Brokerage, and Auctions.
Solving Today's Real Estate Challenges, Creating Tomorrow's Opportunities